I know it is still August, but the weather in New Jersey this week has been feeling an awful lot like fall, and it has gotten me excited!!  Fall is my favorite season – the weather is perfect, the foliage is just beautiful, and there's so many fun activities and foods to try!
In honor of fall, I thought I would share some of my fall favorites.
Flannel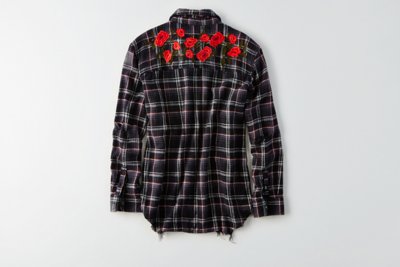 There is nothing more cozy than flannel, whether it be a flannel button up, flannel blanket, flannel pjs, etc., and there's nothing better than curling up in your flannel on a crisp fall morning.  The greatest thing about flannel? You can find it in pretty much any store at almost any price point. I recently picked up this funky flannel with embroidered roses along the back (pictured right) from American Eagle. I also took a trip to Vermont last month and picked up the BEST flannel throw from The Vermont Flannel Company (which might just be my new favorite store), and I can't wait to use it when the weather really gets cool!  Flannel is a fall must have!
Mugs
A fun fact about me and my fiance: we collect mugs every time we take a trip or do something memorable, and we currently have over 50 mismatched mugs from around the world! We are of the mindset, If you're going to sip [insert coffee, tea, hot cider, hot coco] from a mug, it should be a mug you love!  Looking at our little shelf of mugs couldn't make us happier each morning.  In case you aren't able to travel around the world to buy yourself some fun mugs, I've found a bunch of fun mugs on Amazon (where else?) you should all consider investing in:
For the TV Lovers:
(I own the Central Perk mug in the center. It's huge and amazing. You should get it.)
For the Literature Lovers:
(The nerd inside me might need to purchase that First Lines in Literature mug…)
For the Kid inside all of us:
(Can we please talk about how awesome that Lego mug is?! NEED.)
For the Girls (and Guys) Who Just Love Pretty Things:
(All of these mugs remind of something I would find at Anthropologie, which also has a steady selection of fun, eccentric mugs)
Football Food
When the end of August rolls around, my home is suddenly monopolized by all things football every Thursday, Friday, Saturday, Sunday and Monday, and if I'm being honest, I hate watching football on TV.  Alas, I am left  alone as a football-widow until the Super Bowl.  How do I cope? By spending the afternoons and evenings cooking up delicious football snacks … and then eating them!  Here are just a few of my favorite cold weather football snacks:
Crockpot Chicken Chili 
Ingredients:
1 small onion, chopped
1 (15.5 oz) can black beans, drained
1 (15.5 oz) can kidney beans, drained
1 (8 oz) can tomato sauce
10 oz package frozen corn kernels
2 (10 oz) cans diced tomatoes w/chilies
4 oz can chopped green chili peppers, chopped
1 packet reduced sodium taco seasoning
1 tbsp cumin
1 tbsp chili powder
1lb boneless skinless chicken breasts
1/4 cup chopped fresh cilantro
Chop the chicken breasts into small cubes.  Rub with 1/2 taco seasoning package.  Set aside.  Combine beans, onion, chili peppers, corn, tomato sauce, diced tomato, cumin, chili powder and the rest of the taco seasoning in the crock pot – stir well.  Place chicken in crock pot and make sure it is covered completely.  Cook on LOW for 8 to 10 hours or on HIGH for 4 to 6 hours.  Top with cilantro!

BBQ Baby Back Ribs in the Oven
Ingredients
Preheat oven to 400. Rinse ribs thoroughly, and cut off any extraneous silver skin/fat (just make sure to leave enough fat to keep the ribs delicious & moist!)  Pat dry.  Set aside until they reach room temperature (about 20 minutes).  Rub both sides with dry rub (or salt & pepper).  Line baking sheet with tin foil and cover with non-stick spray.  Place ribs bone-side down on the baking sheet, cover tightly with tin foil, and bake for 1 hour.  After 1 hour, remove from oven and uncover.  Leaving ribs on the baking sheet, lather both sides of ribs with BBQ sauce – be generous!   Cover ribs with tin foil, but leave sides open to breathe.  Bake for another 20-30 minutes.  Remove from oven, brush with BBQ sauce, and serve! 
"Boxed" Macaroni & Cheese
Ingredients:
On stove top, bring 6 cups of water to boil. Add in 2 cups pasta, 1 tbsp. olive oil, and a dash of salt.  Boil for 9-12 minutes, depending on how al dente you like it.  Remove and drain.  Follow instructions on side of Vermont Powder Cheese container by adding 1/4 cup cheese powder to pasta – stir vigorously until blended with pasta, and serve!  You will never return to Kraft mac 'n cheese again! *For a fun spin, salt and steam a head of broccoli and add to mac and cheese before serving!
Well, there you have it.  These are just a few of my favorite things I like to enjoy during the fall season.  I hope this post made you as excited for fall as I am!