Tonight we tried a new Japanese izakaya restaurant ("izakaya" meaning "small plates") called Okatshe in the Tropicana (Atlantic City) and it was so amazing, I couldn't wait to get home and write about it!
Ok, so when you walk up to the restaurant, this is what you see: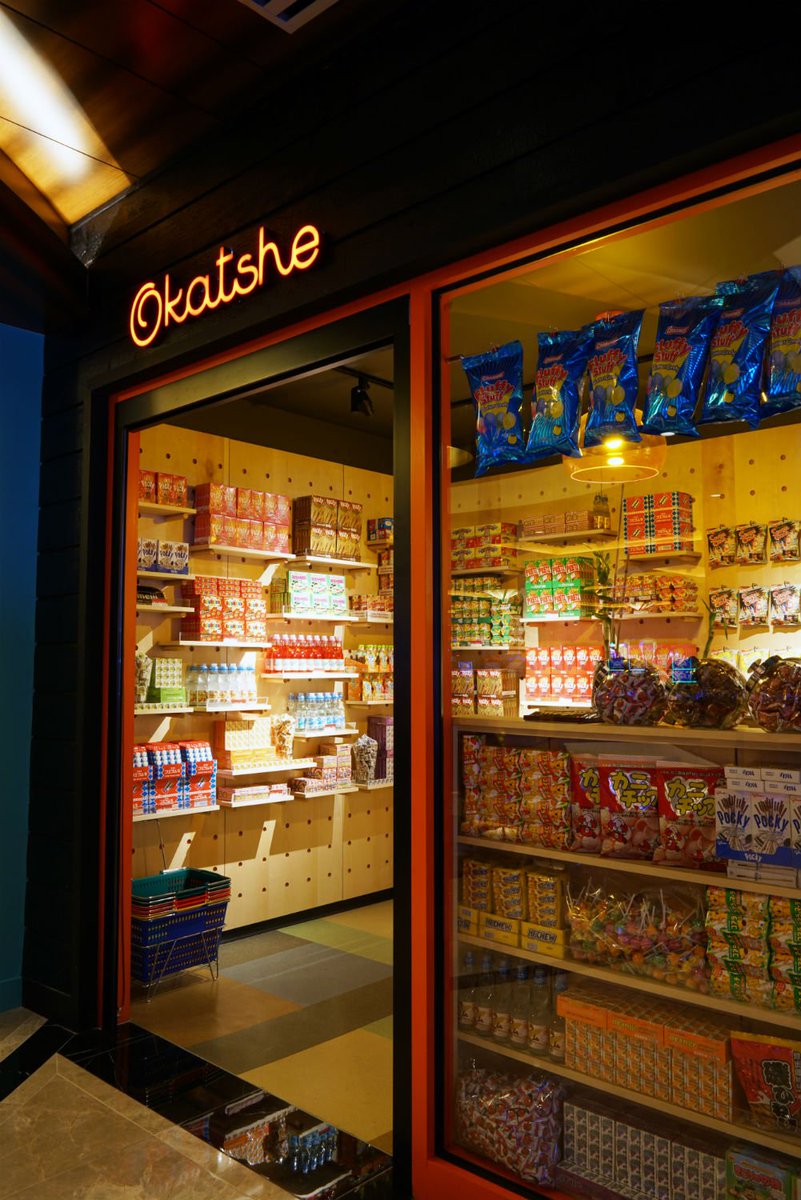 Yes, that's right, the front of the restaurant is an actual Japanese candy store!!
Fun fact: We love, love, LOVE Chinese/Japanese/Vietnamese/Thai candy/food stores and restaurants, so this was super exciting for us.  
Even though it looks like only a candy store, there is a hidden door in the wall that opens up to the actual restaurant – so cool!!
We decided to eat first and shop for candy after dinner. #Adulting.
Inside the restaurant was even cooler than the store-front, if you can believe it.  Here it is:
If you can't tell, it's family style seating and the entire dining room is decorated to look like the streets of (what I assume to be) Tokyo. WHaaaaT!?
The food was easily just as amazing as the decor.  We had a California roll, spicy tuna roll, edamame, Japanese pickles (which were pickled jalapenos, cherry peppers, onions, radishes, garlic, and onions), grilled shishito peppers, mentaiko (a corvina ponzu dish), and tokayaki (a calamari and octopus bonito), and we split a spicy Ramen bowl.  I also tried a small cup of plum wine, which was absolutely delicious, especially if you are into sweet/tart drinks.
Everything was fresh and delicious, and the whole experience made us feel like we were dining in a big city, not little ol' A.C.  Yet, the prices were just right.  Our total bill, wine included, was just $84.00!  While it sounds high, we felt this was pretty reasonable for the amount of food we ordered, which included a lot of fresh fish.
The prices for the candy store were even more right (if that even makes sense?)… all of the candy and cookies we bought were $3 or less!
Needless to say, it was a very successful date night.
We will definitely be going back, especially with friends, as it is the perfect place for dining with a group.
If you live in South Jersey or will be visiting the Jersey Shore anytime soon, I highly suggest you check out Okatshe in the Tropicana!